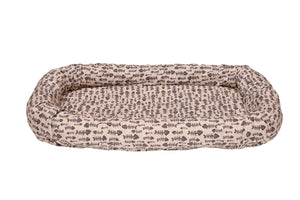 Rectangle - Brown Fish Bones
Regular price $35.00 Sale
The Brown Fish Bones pet bed sheet is a favorite standby to the classic black fish bone pattern and is enjoyed by cats, but dogs love it too.
The rectangle/crate pet bed sheet fits nicely on rectangle or crate beds with rolled sides as well as bolster-type beds. The rectangle sheet was designed to have room to tuck the sheet in on the sides so dogs…and cats…can dig and dig and dig and make the bed their own.
The full elastic bottom helps to keep the sheet in place even with the biggest diggers. Seams are all double stitched so no little threads are left for the chewers.
The 100% cotton fabric makes this pet bed sheet soft and comfy for your fur kid and easy to wash/dry for you. Small stains from food, toys, pet hair and dander wash away easily.
Made in the USA.
Small Rectangle sheet fits rectangle/crate or oval beds measuring approximately:

17" L X 11" W
17" L X 14" W
18" L X 11" W
18" L X 12" W

Medium Rectangle fits beds that are approximately:

18" L X 16" W
20" L X 16" W
22" L X 13" W
24" L X 18" W

Large Rectangle Brown Fish Bones is currently out of stock.