Rectangle/Crate Pet Bed Covers/Sheets
Flat Pet Bed Covers/Sheets
Round Pet Bed Covers/Sheets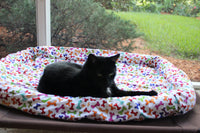 Bones, Bones and More Bones
Sabrina, getting ready for an afternoon snooze, enjoys her Bones, Bones Everywhere (Large Rectangle) pet bed sheet.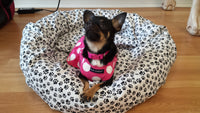 Meka
"This is my favorite pet bed sheet."
Meka is featured in her Black on White Paw Print pet bed sheet (Round, Medium). Unfortunately, this pattern is currently out of stock.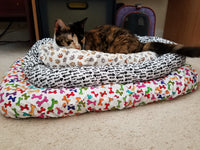 Tower of Beds
Tina is fickle with which bed best suits her, so she chooses to use three rectangle beds in different sizes and patterns.